Promo Art Reveal & Behind-the-Scenes + Title Screen, Creator Page & More!
Updated: Jun 22, 2018
Another year, another E3, and another Update Post! We've got a fair bit in this update – see what went into creating 8-Bit Adventures 2's brand new Promotional Artwork and Title Screen, as well as some brand new images of the game in action!
8-Bit Adventures 2 Promo Artwork


I am very excited to finally reveal the 8-Bit Adventures 2 promotional artwork!
While I think the piece speaks for itself, let's talk about what went into it behind-the-scenes. This wonderful artwork was drawn by Ryan "Jamps" Jampole, a Harvey award nominated comic artist best known for his work on the Mega Man, Sonic, and Dexter's Lab comic book series'. When I contacted him in March, he very kindly agreed to draw a promotional image for 8-Bit Adventures 2, and I think he did an incredible job capturing the personality of the characters in his own signature style!
The goal was to create a piece that conveyed a sense of personality, character, and family from the main party. Unlikable characters are one of the main issues I've had with a lot of JRPGs over the last decade, so this was something I really wanted to communicate about 8-Bit Adventures 2. I always loved the idea of the art showing the party together on an Airship, but getting to this finished state required a lot of work on Ryan's part!
To start us off, he sketched the scene from a variety of perspectives. In my head, I'd been imagining something like Design A, confirming once and for all that I don't know anything about art! While they all had pros and cons, Ryan pointed out that conveying personality is pretty tough when you can't see the characters from the front. So we ended up agreeing on Design D - the most dynamic of the group.
So then the sketching process began, and we went through several iterations – although they're all pretty close to the final version. Jerram (our pixel artist) suggested that the logo be placed on the top right-hand corner rather than in the centre (which was definitely the right decision), and Warrior's expression was changed (he looked a little too smug). Also, Emma miraculously regained her sight in this first sketch – she's blind in the actual game, so that was a very important change =P
After the sketches, next came the line art and tone (the latter provides a sense of the lighting that the final image would have). As you can see, we're very close to the final version now; the biggest change was Emma's pose and expression, as she didn't quite feel true to the character. But after a few more tweaks and a coat of paint, the final version was ready to go! Did you notice the glitch-like distortion on the mountains in the background? =)
Title Screen
You may have already seen it on Twitter, but I also wanted to show off the final version of the 8-Bit Adventures 2 Title Screen! Just like the promo art, I really couldn't be happier with how this turned out. It went through several iterations in the concept phase, but I think Jerram has done an incredible job.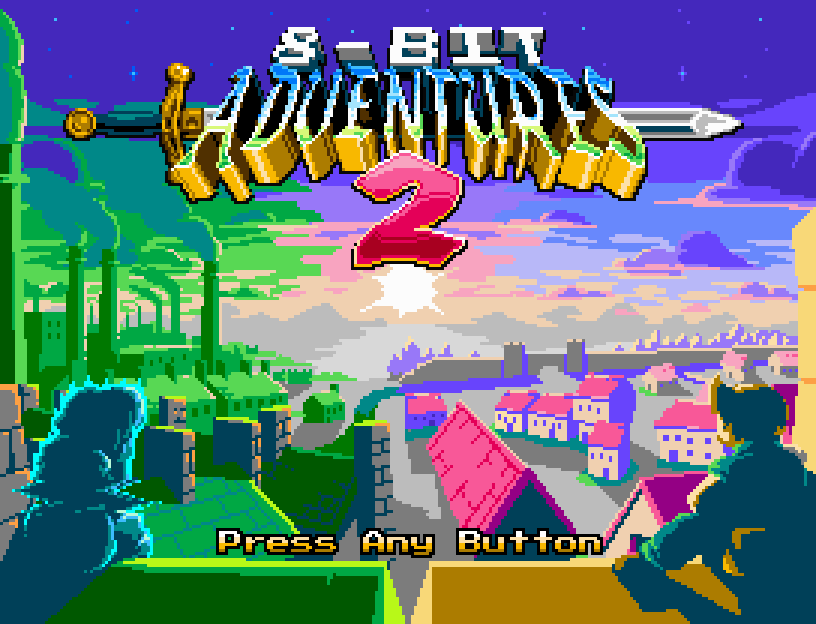 It's designed to represent both the similarities and contrast between two major characters – Charlie on the right, and the Glitch on the left. Honestly, I've spent longer than I'd care to admit just staring at this animation! Hopefully you all agree that it's a great way to greet the player when they start up the game.
Steam Creator Page
It was a bit of a surprise, but this week Steam opened up the beta version of their new Creator Page system. Essentially, it gives Developers and Publishers their own area on Steam to show off their entire catalogue of releases and content. Honestly, I think they've done a really great job; looking at my entire body of work (on Steam) in such a stylish form made me feel very professional haha.
And that's not all! If you click the green "Follow" button at the top of the page, you'll be alerted by Email and on Steam whenever I release a new game. So if you want to always stay up-to-date with my work, please give that button a click. Given how long it's taken me to develop 8-Bit Adventures 2, I don't think I'll be spamming anyone =P
Please check out the Critical Games Creator page here (there have been some technical problems, so I apologise for any images that don't load - just have to wait for Valve to fix it): https://store.steampowered.com/curator/33038547
A Few More Things...
I know that updates have been very scarce recently, and I sincerely apologise for that. The longer development takes, the more I'm trying to walk the tightrope of what to show (and spoil), how to show it, and when to do so. Also, whenever I'm working on promoting the game, I'm not working on actually finishing it, so that's been a difficult balance.
I've just recently submitted 8-Bit Adventures 2 to the Square Enix Collective, and if the game is picked for their showcase I'll hopefully be able to reach an entirely new community of people who also love JRPGs. I should know whether or not that's happening next week, so please keep an eye out for an update post – your support would be sincerely appreciated! Plus there should be a few new images and details.
Speaking of which, here a few new screenshots! First up is another 'cinematic shot' from the game's opening sequence. If you know your NES games, the inspiration for this shot is probably pretty obvious ;)
Next we have a quick trip in the Airship around part of the Anbu region – a new continent on the World Map:
This last one's not animated, but I wanted to show it off all the same! This image is from the Glade of Graphics, one of the four Computer World areas in the game. The architecture here features an Art Deco style; a bit different to your average fantasy environment, isn't it? This area's built around the concept of a murder mystery – a ROBOT murder mystery! ...I promise it makes sense =)
That's All Folks! ...For Now
I'm sorry that I still don't have a release date to share, but I won't be announcing that until I'm 100% sure it's going to happen. I don't want to lead anyone on - myself included! I hope you'll stick with me during this final stretch of development, and I look forward to revealing more of the game as soon as I am able. Please check back late next week to see if there are any updates about 8-Bit Adventures 2 appearing on Square Enix Collective!
Also a BIG thanks to Ryan for his work on the Promo Art - seeing these characters represented in a piece like this was an amazing feeling, and I'm so happy with how it turned out. If you love Mega Man and Chrono Trigger, I highly recommend checking out his Deviant Art page!
And please stay tuned for more general updates! I always post 8-Bit Adventures 2 news here on Steam (including on the new 8-Bit Adventures 2 Steam Page!), but I also highly recommend following @CriticalGamesAU on Twitter, as that's the best way I've found to keep up-to-date on news!
You can also check out the 8-Bit Adventures 2 Website for more info and screenshots (including our new Dev Blog), or check Facebook at: https://www.facebook.com/CriticalGamesDev
And don't forget the newest addition - the Critical Games Creator Page: https://store.steampowered.com/curator/33038547 Follow that page or wishlist the game to be notified when 8-Bit Adventures 2 is finally released!
So what do you guys think of the Promo Art and Title Screen? I'd love to hear your thoughts!~
Josh