10 Minutes of New Music Samples! + A Special Tease + Steam Winter Sale Deals
Updated: Feb 27, 2019
I can't believe it's already the end of 2018! Let's see what 8-Bit Santa has in his magical sack of promotional materials today…
Okay, first things first – Merry Christmas and Happy Holidays!
If you missed last month's update, you should definitely check it out here: https://steamcommunity.com/games/733110/announcements/detail/1719708631743433481
Not only did I discuss the game's release, but I also included a new sizzle reel video that showed off some previously unseen aspects of the game! So if you're looking forward to 8-Bit Adventures 2, it's well worth a look =D
If you want to skip straight to the gameplay, please go to 1:54 on the video. https://www.youtube.com/watch?v=8BZIxbw_m30
This Box Isn't a Present – It's a Prize!
I've mentioned this a couple of times before, but when the game is released, I'll be holding a competition where players (like you!) can win a physical, boxed copy of the game – complete with a (short) manual. Now, I don't actually have these boxed copies in my hand just yet, but the person who's been making them for me was kind enough to take a picture. So here's a little tease ;)
I hope you guys think this is as cool as I do =P
They've been made by Uncle Tusk, who's basically a legend in the world of video game reproductions. He was incredibly kind and helpful throughout the process, and I can't wait for you all to see his work in full. And if you're interested in filling some blanks in your collection, please check out his store: http://www.uncletusk.com/
Tusk specialises in games that were either never released, never translated into English, or are the best-of-the-best fan hacks. He can even do custom orders! I scoured the internet to find the highest quality reproducer for the 8-Bit Adventures 2 boxes/manuals, and I'm confident I found him! I'll provide more details about the competition near release, so please stay tuned.
A Symphony of Samples
As I did a video last month, this time around I wanted to show off some more music samples. So I've uploaded over 10 minutes of music (samples from 9 separate tracks) to the 8-Bit Adventures 2 SoundCloud!
Sebastian (Carfonu), our composer, has done an incredible job on the game's absolutely massive soundtrack - which contains over 75 pieces of music! What I wanted to highlight with this group of samples is the variety and energy of his compositions, despite the limitations of the technology he's working with. I really can't praise his work enough, and I'm very grateful to have him on the project (as I was with the first game too!). But don't take my word for it; you can listen below!
I honestly can't pick favourites, so if you have the time, I highly recommend sitting down and listening to them all! If nothing else, though, the Title Theme is an easy recommendation. And those mystery themes sure are mysterious!
Towards the Dawn - Title Theme (Full Song)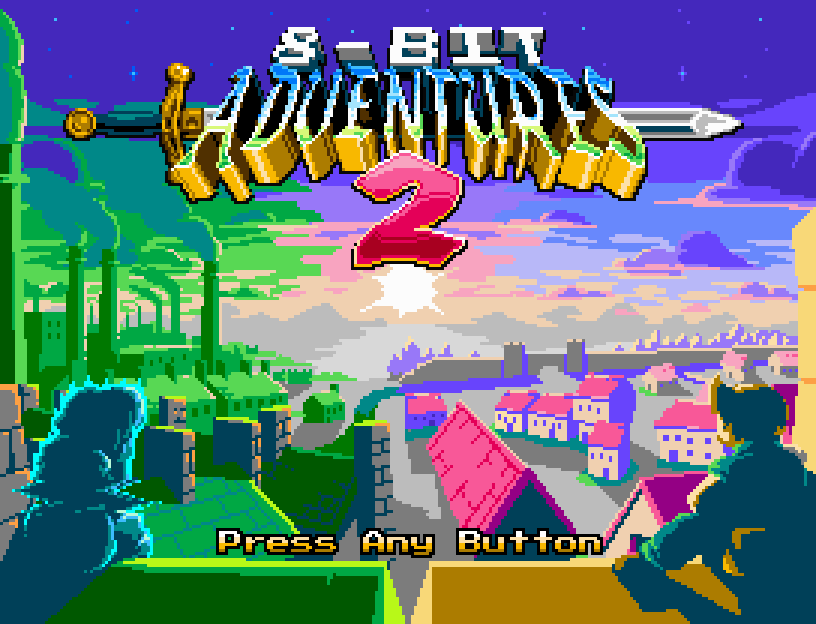 Steam Winter Sale Discounts
For the next two weeks only (until 10:05 AM on January 3rd Pacific Time), you can get 8-Bit Adventures at 60% off! That means you can own it for just $4 USD! You can also get the fantastic Remastered Soundtrack 30% off ($3.50 USD), or the Game + Soundtrack bundle 45% off (that's only $6.60 USD)! Visit the 8-Bit Adventures Steam page here.
Additionally, my most recent game Tales Across Time is also participating in the sale, making an already cheap game even cheaper! You can now get it 20% off - that's just $2.39 USD!! Visit the Tales Across Time Steam page here.
These discounts won't get any lower in the future, so get 'em while they're hot! ;)
And remember, every purchase goes towards 8-Bit Adventures 2's development. As many of you know, I am funding development myself, so any and all support is greatly appreciated!
Merry Christmas and a Happy New Year!
As we're getting closer and closer to release, I'm planning to do one of these updates every month. In fact, when my last game (Tales Across Time) was coming out, I did daily updates on Twitter for a few weeks until its launch, so I'm also considering bringing that back. I can really dig into the minutiae of the game's systems then!
To make sure you don't miss any of those, I recommend following @CriticalGamesAU on Twitter, as that's the best way I've found to keep up-to-date on news!
You can also check out the 8-Bit Adventures 2 Website for more info and screenshots, or follow our Facebook page.
And don't forget the newest addition on Steam - the Critical Games Creator Page! Follow that page or wishlist the game to be notified when 8-Bit Adventures 2 is finally released!
Thank you all so much for your continued support, and I absolutely cannot wait for you guys to play 8-Bit Adventures 2 in 2019!
I mean, I know I said that about 2018 at the end of last year, but this time it's definitive; I've gotta make sure everyone's patience pays off! Although it is a *little* surreal that Kingdom Hearts 3, a game I've been waiting for since High School, will be releasing before 8-Bit Adventures 2...Ah, but I'm getting sidetracked. I sincerely hope that you and your loved ones have a wonderful holiday season and a most fantastically happy New Year!
I'll see you on the other side for a brand new adventure! ~Josh